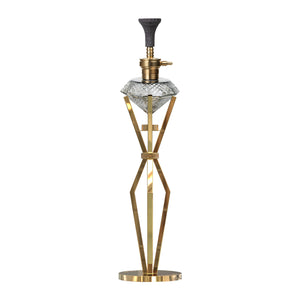 A perfect fusion of classic and modern design with hand-cut glass and stainless steel parts. Kohinoor adds elegance and luxury to your shisha experience.
This beautiful handmade hookah is exclusively made, making it one of the most sought after hookahs in the world, designed and sold only by Cocoyaya.
Fly series hookahs are finely engineered to give you the best quality and smoking experience possible.
The design details of steel cut in this hookah is beyond obsession. Get fascinated every time you lay your eyes on it.
The handmade hookah will make for a great centerpiece in any room or display.
Strong & solid upper stem (very heavy)
Fantastic design with an amazing look
Package contains: Hookah, Base, Tongs, Chillum, Pipe.
NOTE: You must be 18 years of age or older to purchase this product